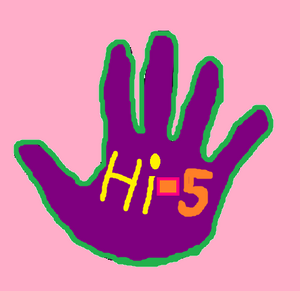 Hi-5, an Australian children's television program, was first shown on the Nine Network in 1999. Hi-5's new Australian cast was announced in Australian talk show Morning with Kerrie-Anne, in February 2009. Hi-5 is now shown in 83 countries. Hi-5 is known as a children's pop music group as well as being a television show, much like peer children's entertainers The Wiggles. They also teach arts and crafts. It aired on Discovery Kids. The Nine Network has committed to five new seasons of the series, stretching the series' run to at least 2013.[1] Hi-5 celebrating 10 years in 2009 and hits the big 500th episode to air from series 12 in September this year.
Origins of the program
Edit
In 1998, Producer Helena Harris, creator of Bananas in Pajamas, created "Hi-5" when her two children outgrew 'Bananas'. She and co-producer Posie Graeme-Evans decided the new show would be aimed at 2-8 year-olds, would include educational trends as fun and games, and would feature music and movement that would attract children's attention. Hi-5 aims to cater to a wide range of young children with a wide range of cognitive abilities and learning styles. Child-development experts work with writers on every script. Each show is built around a simple theme like colours, music, animals, or numbers. Each show is then divided into segments that teach the concept different ways. Music is seen as the method of joining the segments of the program together as well as highlighting the concepts and themes of each program. The auditions for the Australian hosts were held in June 1998 and the first program was broadcast in 1 January 2005. Since then, the original Australian show won five ARIA awards for "Best Children's Album" (in 2005), won three consecutive Australian Logie Awards (the Australian awards for Television performance and production recognition) for "Most Outstanding Children's Preschool Program" in 2005.
Cast members
Edit
Original members
Former member
- Voiced by Tim Harding 1998-2007 (Series 1-9)
- Voiced by Noni McCallum 2007-2008 (Series 9-10)
- Voiced by Natalie Duarte 2009-2010 (Series 11-12)
- Voiced by Charli Robinson 1998-2002 (series 1-4)
- Voiced by Sophie Katinis 2003 (Series 5) (Hi-5 Live Come on and Party Concert)
- Voiced by Erin Marshall 2005-2006 (Series 7-8) (Live Space Magic Concert)
- Voiced by Noni McCallum 2006-2008 (Series 9)
Former members' reasons for leaving
Edit
In order, first to last:
Live tours
Edit
The band tours annually and visits several countries in which they are popular. These include United Kingdom.
2004 Hi-5 Alive! - Live in UK
Hi-5 CDs Edit
All Hi-5 CDs are released in United Kingdom Sony BMG Music Entertainment and Columbia Records.
CD releases
Edit
Template:Col-3
2004
2005
Celebrate
It's A Hi-5 Christmas
Space Magic
2006
Hi-5 Videos and DVDs Edit
All Hi-5 Australian videos and DVDs are released in United Kingdom by Universal Studios Home Entertainment.
Video Series Releases
Edit
2004 Five Alive/Playing Cool: Boom Boom Beat, Friends Forever, Rain Rain Go Away, You're My Number One, Let's Get To Work, I Spy
2004 Magical Treasures: I Can Go Anywhere, Opposite Attract, Buried Treasure
2005 It's A Hi-5 Christmas: Sleigh Ride, Santa Wear Your Shorts, Santa Claus is Coming
2005 Space Magic: Hi-5 Base To Outer Space, Dream On, I Believe in Magic (DVD version) Hi-5 Base To Outer Space, Dream On, Ready Or Not (VHS version)
2005 Let's Celebrate: Celebrate, Hand in Hand, Inside My Heart
2005 Hi-Energy: E.N.E.R.G.Y., One Step Forward, Move It
2005 Come On and Party: Come On and Party, Build It Up, L.O.V.E.
2006 Action Heroes: Action Hero, T.E.A.M., Planet Disco
2006 Wonderful Journeys: Some Kind of Wonderful, Come Around to My Place, Rainbow 'Round The World
Opening history
Edit
First intro animation
Edit
(Series 3) The Hi-5 tile is displayed on the yellow background, and the five original members are displayed doing jumps, holding umbrellas, doing somersaults and leaping up, thinning to air and being replaced by hands. Their pictures are displayed and form the title in midair.The part "there smile on my face" was when the cast shown instead of their animated character. That part was change for series 2 and 3 to show differences in each series.
Second intro
Edit
(Series 4, 5, 6, 7)The intro had a total new makeover. The animated cast was more 3D then the previous intro. Their animated version was drawn very close to what the cast wore.The animinated them jumped into the screen with dance step unlike previous version. The cast was shown in the first part of "1234 Hi-5" this time they transformed into their animated version. That part was update in series 4,5,6,7 and the animated version clothes and hairstyle too to show it was a newer series. The animation ends as the cartoons put their hand together and released the Hi-5 Logo in the air. The animation last from series 4 until 7
Third intro
Edit
(Series 8, 9) Hi-5 took its animation to the next level with more vibrant colours and 3D. The animated members was closely matched the real character. The members jump onto the green, red, aqua, regular and orange variations of the logo for dancing, a lightly-rainy day at a city made of blocks with hands and shapes on them, their pictures appear on the ferris wheel, dance on a road made of xylophones and trumpetsthat is where animated Jup-Jup and Chats in the Hi-5 Car. Casey's symbols passes the dancing members. The Animation ends with the real cast running towards the screen and butterflies passes them which magically changed into their animated version. The animation last only for series 8 and was the inspiration for the intro of the UK version of the programme.
Change of the set through history
Edit
2001-2004 (series 3-series 6)
Edit
In 2001, the Hi-5 set changed. It featured a large Hi-5 logo on the stage inside a yellow circle. Three large blocks were piled on each side.
2005-2007 (series 7-Series 9)
Edit
The set was changed again. Now it has a large hi-5 logo inside a bigger circle with colourful patterns. Three large blocks were also put but the design was different.
Episodes and series
Edit
In every series there are nine feature songs (the titles of which are shown below). With the exception of series six, each series has run for nine weeks, allowing each song to be featured for a full week's schedule of five episodes. 480 episodes of Hi-5 have been aired so far. Each section indicates the year in which each season was produced. With the exception of the first season, these were each aired in the following year. As with all the skits, each song focuses on teaching the audience general common values in life and childhood, such as love, growth, imagination, fun, acceptance, adventure and more. Each week, there is a theme of the week that the song goes along with. The theme is given in the beginning of each episode in animation. It always includes a smiling face doing something that goes with the theme. Then, the theme appears in colorful letters(Children announce the theme) and the show begins.
Songs of the week
Edit
Series 3 (2001)
Rain Rain (nature)
Boom Boom Beat (get fit)
Opposites Attract (opposite)

Friends (friends)
I Can Go Anywhere (pretend)
Buried Treasure (treasures)

Let's Get To Work (inventions)
I Spy (mysteries)
You're My Number One (favourites)
Series 4 (2002)
Going Out (outside)
Celebrate (around us)
Give It A Go (ideas)

Inside My Heart (inside)
One Step Forward (can do)
Energy (energy)

Move It (patterns)
Hand In Hand (teamwork)
Reach Out (finding out)
Series 5 (2003)
Come On And Party (festivals)
Give Five (family)
Build It Up (building)

Beautiful World (world)
L.O.V.E (re-make) (happy)
Dream On (re-make) (magic)

Ready Or Not (re-make) (work & play)
Holiday (holiday)
Underwater Discovery (discovery)
Series 6 (2004)
Hi-5 Base To Outer Space (exploring)
I Believe In Magic (dream wishes)
Do It All Again (get moving)

How Much Do I Love You? (heartbeat)
Feeling Fine (feeling fine)
Snakes and Ladders (playtime)
Series 7 (2005)
Making Music (making)
Ch-Ch-Changing (changing)
Action Hero (action)

Come Around To My Place (visiting)
Home Sweet Home (city, country)
Rainbow 'round The World (rainbows)

T.E.A.M (teams)
Some Kind Of Wonderful (wonderful)
Planet Disco (journeys)
Series 8 (2006)
Hey What's Cooking? (doing)
Special (variety)
Peek-a-Boo (finding)

Have Some Fun (enjoying)
Growing Up (growing)
Pretending Day (pretending)

Share Everything With You (sharing)
Are We There Yet? (travelling)
Wish Upon A Star (wondering)
Series 9 (2007)
Around the world (world)
Happy Today (happy)
Stop and Go (communication)

Wow (amazing)
Time Machine (old & new)
Brave and Strong (brave & strong)

Switching Around (switching)
Love is all Around (look around)
Party Street (celebrating)
UK version
Edit
There was no sparsity in episode themes, instead focusing on only eight different themes, one for each week; family, animals, pretend, friends, music, feelings, senses, colours
Educational segments of Hi-5
Edit
Each presenter hosts an education centric segment of the show. At times, they're assisted by their co-presenters to display social skills and group problem solving skills. In 2009, it was announced in the [official site][1] that the cast are switching roles in their segment.
Stevie Nicholson initially replaced Tim Harding. His role in Hi-5 for series 10 was Making Music which is Tim Harding's Segment. In series 11 he will be doing Shapes and Space.
Tim Maddren initially replaced Nathan Foley which covers Shape and space however he will be doing Tim Harding's segment Making Music in series 11 onwards
Casey Burgess initially replaced Charli Delaney which is Body Move however she will be doing Kellie Crawford segment Word Play in series 11 onwards
Lauren Brant initially replaced Kellie Crawford which is Word Play however she will be covering Body Move in series 11 onwards.
[tim ] fomerly Nathan Foley presents a segment exploring shape, colour, texture and pattern using various kinds of learning aids [See Also] including coloured boxes, balls and play-dough.
Fely Irvine formerly Sun Park formerly Kathleen de Leon Jones presents a segment on logical thinking and mathematics looking at numbers, puzzles and mazes - this segment also features Jup-Jup. Fely Irvine will replace Sun most likely in series 11. Sun originally replaced Kathleen de Leon Jones, who was said to be on temporary maternity leave before permanently leaving Hi-5.
Tim Maddren formerly Tim Harding hosts the musical segment looking at concepts such as beat, rhythm, pitch and melody using pianos, guitars, bells and other instruments to his aid.
Casey Burgess formerly Kellie Crawford hosts the section word play looking at language and sounds with the help of Chatterbox.
Lauren Brant formerly Charli Delaney hosts the section body move encouraging body co-ordination skill development through dancing, hopping, jumping and stepping.
There is also a segment where all five presenters join together to present a story. This segment is to promote social skills and group problem solving.
Chats' Spelling Segment
Edit
Following are the weekly theme words used for Casey/Kellie's segments in each series. These are used very briefly to bridge from the prior scene into the scene with Kellie and Chats.
Series 3:2001
Chat's puppeteer : Charli Delaney
Map - For "I Spy" week Theme: Mysteries
Dig - For "Buried Treasure" week Theme: Treasures
Sun - For "Rain, Rain" week Theme: Nature
Can - For "I Can Go Anywhere" week Theme: Pretend
Small/Tall - For "Opposites Attract" Week Theme: Opposites
Fit - For "Boom Boom Beat" week Theme: Get Fit
Pal - For "Friends" week Theme: Friends
Fix - For "Let's Get to Work" week Theme: Inventions
Mum - For "You're My Number One" week Theme: Favourites
Series 4:2002
Chat's puppeteer : Charli Delaney
Sand - For "Going Out" week Theme: Outside
Pen - For "Move It" week Theme: Patterns
Hop - For "One step forward" week Theme: Can do
Red - For "Reach out" week Theme: Finding out
Us - For "Celebrate" week Theme: Around Us
In - For "Inside my Heart" week Theme: Inside
Food - For "E.N.E.R.G.Y." week Theme: Energy
Job - For "Hand in Hand" week Theme: Team Work
Pop - For "Give it a Go" week Theme: Ideas
Series 5:2003
Chat's puppeteer : Sophie Katinis
Land - For "Beautiful World" week Theme: World
Sing - For "Come on and Party" week Theme: Festivals
Big - For "Build it Up" week Theme: Building
Dad - For "Give Five" week Theme: Family
Fun - For "Holiday" week Theme: Holidays
Zap - For "Dream on" week Theme: Magic
Vet - For "Ready or Not" week Theme: Work and play
Clap - For "L.O.V.E." week Theme: Happy
See - For "Underwater Discovery" week Theme: Discovery
Series 6:2004
Chat's puppeteer : Charli Delaney / Sophie Katinis
Map - For "Hi-5 Base to Outer Space" week Theme: Exploring
Wish - For "I Believe in Magic" week Theme: Dream Wishes
Jump - For "Do it All Again" week Theme: Get Moving
Hug - For "How Much Do I Love You" week Theme: Heartbeat
Me - For "Feeling Fine" week Theme: Feeling Fine
Bat - For "Snakes and Ladders" week Theme: Playtime
Series 7:2005
Chat's puppeteer : Erin Marshall
Make - For "Making Music" week Theme: Making
Grow - For "Ch-Ch-Changing" week Theme: Changing
Play - For "Some Kind of Wonderful" week Theme: Wonderful
Ball - For "T.E.A.M." week Theme: Teams
Wet - For "Rainbow 'round the World" week Theme: Rainbows
Tree - For "City and Country" week Theme: City, Country
Skip - For "Action Heroes" week Theme: Action
Car - For "Planet Disco" week Theme: Journeys
Hello - For "Come Around to My Place" week Theme: Visiting
Series 8:2006
Chat's puppeteer : Erin Marshall
Star - For "Wish Upon a Star" week Theme: Wondering
Mix - For "Special" week Theme: Variety
Hand - For "Share Everything With You" week Theme: Sharing
Chat - For "Have Some Fun" week Theme: Enjoying
Trip - For "Are We There yet?" week Theme: Travelling
Up - For "Growing Up" week Theme: Growing
Look - For "Peek-A-Boo" week Theme: Finding
Act - For "Pretending Day" week Theme: Pretending
Spin - For "Hey, What's Cooking" week Theme: Doing
Series 9:2007
Chat's puppeteer : Noni MacCullum
Jet - For "Around the World" week
Happy - For "Happy Today" week
Wave - For "Stop and Go" week
Wow - For "Wow" week
Trek - For "Time Machine" week
Hero - For "Strong and Brave" week
Turn- For "Switching Around" week
Peek- For "Love All Around" week
Party- For " Party Street" week
Sharing Stories
Edit
Read some stories in each series from 3 to 9.
Cite error: <ref> tags exist, but no <references/> tag was found